Government Contract Termination Lawyers
Government contract terminations in federal procurement can be expected in two common scenarios. They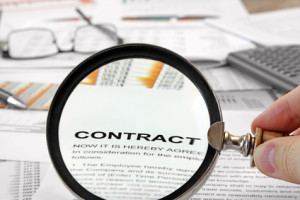 are termination for convenience or termination for default. In any situation, your company stands a chance of losing a substantial amount of business profits. The best way to maximize damages in any contract termination situation is to understand the process and understand your legal rights.
With decades of experience in government contracting, Watson & Associates' attorneys carefully analyze the facts of your case, help you to prepare adequate legal content and requirements for your contract termination claims. We provide clear direction and critical advice that protects you in this critical situation. You want to protect your rights by helping you to:
Prepare legally sound settlement agreements

Analyze allowable damages

Negotiate settlements on your behalf

Prepare your Request for Equitable Adjustment

Litigate or appeal denials

 
Our federal government contract termination lawyers offer meticulous and aggressive legal representation to small businesses and large DOD contractors that are want to protect their rights when the agency ends the contract. We help you to prepare proper defenses to the agency's adverse actions and vigorously litigate if your claims are denied. Our contract termination for convenience lawyers help you to adequately prepare settlement proposals and detailed support for allowable damages.  See difference between termination for convenience and termination for default.
Understand your rights when the government terminates your contract

Maximize your allowable damages

Prepare adequate settlement proposals with support

Challenge or appeal contracting officer's final decision 

 
Download Free Information on Termination for Convenience Actions
Call a government contracts termination attorney today to discuss how we can help you to maximize your damages. Call 1-866-601-5518 for a free initial consultation.
What is a Termination for Convenience?
This type occurs when the government agency that has contracted with you and then decides to cancel the contract. The problems that usually occur include:
Improper reasons for terminating your contract

Wrongful denial of claims submitted

Actual breach of contract on the government's part
Contracting officials can terminate the contract without fault of the contractor under the termination for convenience clause. However, it is always prudent to inquire as to whether the government's termination is actually a valid one.
Our government contract termination attorneys help you to conduct a meaningful inquiry into the agency's actions and to assess termination damages. Without this help, you might miss out on getting the maximum damages allowed.
Have a Lawyer Determine if the Government Has Actually Breached Your Contract
If the government improperly terminates the contract for convenience, the logical approach is to be compensated as though it were a breach. Understanding your obligation in response to the contract termination letter is paramount.
This is why the first approach to handling a termination for convenience is to see whether or not there is an actual breach. The underlying reason for this clause is to allow the government to continue to act in its sovereign capacity. If there are no funds available or the mission changes, the government should be able to unilaterally terminate the contract. Terminations for convenience are not intended to be a sword against contractors who stand up for their rights or demand payment for extra work.
Watson & Associates will seek out whether the government has actually breached the contract. If the agency has instituted an improper termination for convenience, then you may be entitled to profits (you generally cannot collect anticipated profits.)
You never want to simply take the advice of the agency officials because they have no legal duty to protect your rights.
Challenge Unreasonable Contract Termination Proof Requirements from the Government.
A fixed-price contractor is not required to document its costs of performance. However, the government often rejects payment of contract termination for convenience costs. Although as a contractor you have the burden of proving your claims, you can utilize the estimation approach. When there is a firm-fixed price termination, you should always keep adequate records of spending and costs. You never want to reactive because you might spend considerable time and money simply trying to challenge the decision. Our government contract attorneys recommend that you keep a solid accounting system for all government contracts individually.
Request Partial Payments.
When there is a termination for convenience, you should always submit a request for partial payment with your settlement proposal. The government should process this requirement in a prompt fashion and not use it as a sword to force you to accept less of a payment. Call our termination for convenience lawyers for immediate assistance.
Upon Notification You Should do the Following
Upon receipt of the notice of termination, the prime contractor should immediately stop all work and terminate all subcontracts related to the terminated portion of the prime contract. The contractor should initiate efforts to preserve property. Actions should be undertaken to solicit settlement proposals from all subcontractors. The contractor is responsible for submission of a settlement proposal and inventory schedule to the TCO. The proposal must be adequately supported.
Submit Timely Settlement Proposals
The contractor should promptly submit to the TCO a settlement proposal for the amount claimed because of the termination. This proposal must be submitted within one year from the effective date of termination unless extended by the TCO. Termination charges under a single prime contractor may be consolidated and included in a single settlement proposal.
Termination for Default
Sometimes contracting officers will issue a show cause notice. When this happens, there is a good chance that a termination for default will follow. Although government contract law and case law states that this type of termination should be the last resort, our office has seen a rise in the amount of default terminations.
Let us help you to protect your rights and negotiate a better outcome. A termination for default can ruin your future of doing business with the government. Our lawyers may be able to negotiate a reinstatement of the contract with new terms or help to minimize costs associated with a termination for default.
Government contracts provide that the government may cancel (terminate) your contract if:

You fail to make delivery within the time specified in the contract;

You fail to make progress so as to endanger performance of the contract, and/or;

You fail to perform any provisions of the contract.
Before terminating a contract for default, however, the contracting officer must give you an opportunity to remedy defects in your performance or show why your contract should not be terminated.
If your contract is terminated for default, you are entitled only to payment at the contract's price for items accepted by the government. If the government still needs the items that you failed to deliver, it has the right to procure the same items elsewhere and, if they cost more, charge the excess costs to you. This can be a very serious and costly matter.
Tips to avoid terminations for default include:
Keeping the government informed all of potential problems in writing

Keep a tight leash on your subcontractors

Keep copies of all communication with the government

Always keep in mind that only the contracting officer can bind the government (not the COR/COTR)
Call Washington DC Government Contract Termination Lawyers
Our law firm serves contractors in Washington DC, Maryland, Virginia and nationwide. If you need help with preparing your termination for convenience claims, call us immediately at 1-866-601-5518 or 202.827-9750. Contact us Today
Watson & Associates, LLC
Government Contracts Attorneys
925 South Niagara Street, Suite 600 Denver, Colorado 80224
or
1629 K Street, N.W., Suite 300, Washington, DC 20006-1631.
Toll Free: 1-866-601-5518 or 202.827-9750.
Watson & Associates' law firm represents clients with government contracts claims, litigation, and appeals in all contract termination disputes. The firm services clients in Washington, DC and nationwide.